Boston, 21 May 2004 – Indo-British novelist Kamala Markandaya, whose works were first published in the 1950s, passed away Sunday May 18 at her home in the outskirts of London.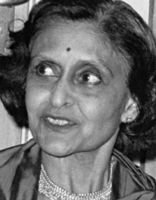 Markandaya was 80, and had settled in England since the age of 25, following her marriage to Bertrand Taylor. Her daughter Kim Oliver survives her.
Indian American author Shashi Tharoor put it succinctly when he admitted, »Markandaya was a pioneer who influenced all of us Indians writing in English.«
Born Kamala Purnaiya in a small town in Mysore in 1924, Markandaya attended the University of Madras, beginning in 1940, where she studied history. From 1940 to 1947, she worked as a journalist and also published short stories in Indian newspapers. During the war she worked for the army in India and later returned to journalism.
Fame and success came with her first published novel, Nectar In A Sieve (1954), a Book-of-the-Month Club Main Selection and bestseller in the United States. In 1955, the American Library Association named it a Notable Book. That novel was followed by nine others: Some Inner Fury (1955), A Silence of Desire (1960), Possession (1963), A Handful of Rice (1966), The Coffer Dams (1969), The Nowhere Man (1972), Two Virgins (1973), The Golden Honeycomb (1977), and Pleasure City (titled Shalimar in the American edition, 1982). In the US her early novels were published by John Day and Co, the same outfit that published the works of Jawaharlal Nehru.
Charles R. Larson, Chair, Dept. of Literature, American University, Washington, D.C., who was upset that no Indian or American newspaper had published Markandaya's obit even though she died last Sunday, has noted that her two most popular novels, Nectar In A Sieve and A Handful Of Rice, were »taught in hundreds of American courses, both in the public schools and the universities.«
From the 1960s onwards it was a common sight to find Markandaya's novels on the shelves of used bookstores throughout America, as well as in every public library. At least twelve Ph.D. theses have been written in American and British universities analyzing Markandaya's writings.
Indo-Canadian poet and academic Uma Parameswaran, who has studied Markandaya's oeuvre and interviewed her, is of the opinion that she »is a pioneer member of the Indian Diaspora, and her best novel, The Nowhere Man (1972) foreshadows many diasporic issues with which we are preoccupied today.«
Parameswaran adds: »Markandaya's strength as a novelist comes from her sensitive creation of individual characters and situations which are simultaneously representative of a larger collective; her prose style is mellifluous and controlled.«
Parameswaran is the author of a study of Kamala Markandaya in the Writers of the Indian Diaspora series, edited by Jasbir Jain, and published by Rawat Books in 2000.
In the SAWNET version of the biography she observes: »The Nowhere Man resonates for me because it speaks insightfully of diasporic situations twenty years before others spoke of it. Salman Rushdie, in Shame (1983), says anyone who is oppressed will be driven to react in extreme violence, and later in The Satanic Verses he describes race riots in Britain. Markandaya's novel, set in 1968, talks not only about the violence of racism but also about other diasporic realities - educational degrees that are not given accreditation, the resistance of immigrants to the expectations of the »host« culture, chasms of communication between generations, cultural values and needless cultural baggage.... The main diasporic issue that I value in the novel is the warning it gives us, and especially our children who think they are »American« or »Canadian.« When Srinivas, after thirty years in England (ten years longer than he had spent in his native India), during which time he has sacrificed a son to England's war, is heckled by racist hoodlums to »go back to your country,« he is bewildered, »But this is my country.« No matter what we ourselves may feel about our present homeland, too many see us only as aliens who belong elsewhere, not here.«
Parameswaran adds: »In late 1970s, when I contacted the editor of the World Author Series about a volume on Markandaya, I was told it had been assigned already to someone else. Several years later, when I wrote again to ask why the volume had not appeared, I was told that the assigned critic could not get the biographical details required for the first chapter in each volume in their series. Amazingly enough, despite biographical notes by various critics, (Premila Paul, Martin Tucker, Rekha Jha, Ruth Montgomery), we still do not know too many details about her life. Despite meeting her several times, I forgot to ask for her husband's first name. Her daughter has been identified as »Kim« by Montgomery, but in our conversations, Markandaya referred to her by her Indian name. I mention this lack of specifics because it seems to be so much part of the Indian tradition of temple sculptures where the sculptor left exquisite masterpieces but nothing about himself, not even a name.«
Analysis of novels
All of Markandaya's novels reveal her deep preoccupation with the changing Indian social and political scene, her careful, conscious craftsmanship and her skilful use of the English language for creative purposes.
She excels in recording the inner workings of the minds of her characters, their personal perplexities and social confrontations. She endeavored to portray them as individuals growing into themselves, unfolding the delicate processes of their being and becoming.
In their encounter with a alien political power, the anticolonial or anti-imperialist attitudes are powerfully expressed and Markandaya's major characters project these viewpoints.
Her Nectar in a Sieve, said to be reminiscent of Thomas Hardy's novels, was published in 1954 and made her widely known. It is a restrained as well as a touching account of the life of an Indian peasant woman, Rukmani, and her struggle for survival and her abiding love for her husband, Nathan.
However, in The Nowhere Man Markandaya is more concerned with unfolding the sense of alienation of Srinivas, or the modern man. In this novel political considerations occupy a secondary place, the primary purpose being to highlight the isolation of the individual soul and expose the pathos of the human condition. Markandaya succeeds in achieving the delicate balance between unfolding the individual's psychological and social predicaments and portraying a wider cultural and political setting which create these crises. This balance is the hallmark of her success as a novelist and it highlights her distinctive art in the choice of her themes and her skilful craftsmanship.
Some Inner Fury presents Mira's conflicts as she is divided between her ardent and genuine love for Richard, an Englishman, and the compelling political forces of Indo-British turmoil. These forces pull them apart and her mind, once reveling in romantic love, returns to the harsh realities of life.
Some of her novels seem to be autobiographical though she is reticent in talking about herself; they at least present the first person omniscient narrator. Nectar in a Sieve and The Nowhere Man are her finest creations, which will ensure her a place among the modern Indo-English novelists of distinction.
Rochelle Almeida, who teaches Post-Colonial Literature and South Asian Civilization at New York University and has explored »Indianness in the Novels of Kamala Markandaya« has dissected the influence of Markandaya's upbringing and early experiences in India together with those gleaned following her emigration to England. She does this by drawing liberally upon Markandaya's own comments on her life and personal conversations with the novelist and is able to explore every facet of Markandaya's creativity from theme and character to language and setting.
Markandaya's entire canon of ten novels was produced over a period of three decades. She has not produced any novels in the past 22 years.
A sensitive American educator observes that Markandaya's work reminds us that 50% of the earth's population is female and that in many ways, women are responsible for much of the stuff of history. Markandaya reminds us that not only are women important and enduring individuals but also that the plight of rural women in developing countries is one that is more often the norm than many of us either realize or appreciate.
Nectar in a Sieve is a relatively short novel that introduces Western students to life in rural India and the changes that occurred during that country's British colonization. Although easy to read, the novel is lyrical and moving and can be read on a variety of levels. On the most basic level, it is the story of an arranged but loving marriage and rural peasant life. On another level, it is a tale of indomitable human spirit that overcomes poverty and unending misfortune. Finally, it is a novel about the conflicts between a traditional agricultural culture and a burgeoning industrial capitalistic society. The novel touches on several important social phenomena: the importance of traditional cultural practices, people's reluctance to change, and the impact of economic change
An Indian American writer, Indira Ganesan, writes of Nectar in the Sieve: 'This is a very short book but don't let that fool you. There is so much packed into this little novel that if you blink you miss something. In some ways it is a very hard read in the fact that it is so realistic. After I read the book, I was shocked to find it out that it was written over 45 years ago. It is so modern and forward thinking that I assumed it had been written in the past year or two. At its core is Rukmani, a peasant Indian girl who marries her husband at age 12.
'This book is the mark of the plight of women of earlier times - India's struggle with modernity and the unbelievable acts of woman for her family. The words were like liquid poetry, the words penetrated my conscience and my heart. I can no longer eat a full meal without thinking about Rukmani, the main character, and her struggles to survive over a few American dollars. It was sad and slapped me in the face that this book may explain the many starving lives in other countries.'
Many literary analysts such as Meena Shirdwadkar have suggested that the value of suffering is an important component of Markandaya's novels because she portrays her positive woman characters as ideal sufferers and nurturers.
Nectar in a Sieve was Kamala Markandaya's first novel to be published, although it is actually the third novel she wrote. The novel, published less than a decade after India won its independence from Britain, is clearly influenced by this event, portraying some of the problems encountered by the Indian people as they dealt with the changing times. Markandaya never mentions a specific time or place, however, which gives the story universality. Some of the struggles that the main character, Rukmani, faces are the result of the changing times, but they are the kinds of struggles (poverty, death, loss of tradition) that are experienced by many people for many reasons.
Far beyond its political context, the novel is appealing to modern readers for its sensitive and moving portrayal of the strength of a woman struggling with forces beyond her control. It is a story about the resilience of the human spirit and the importance of values.
Essentially, that happens to be the overriding theme in many of her novels.
The final word must go to literary analyst Edwin Thumboo, who says, »She handles character, dialogue and description with skill. All three are integrated, mutually supportive, so that the fiction is impressive, because it creates warm and pulsating individuals…«
*Article originally published by Indolink.
Copyright © by Francis C. Assisi. Some quotes are © by Uma Parameswaran.